Join us for Meditate by the Lake
Sat 9 Dec 8am at Bowen Park - it's free
New Class in Red Hill:
Thursdays 10am at our Centre
Wednesday lunchtimes 12.30pm – 1.15pm $12
Belconnen Arts Centre, Emu Bank
every Saturday 10am – 11.15am $15
Griffith Neighbourhood Centre, 53 Stuart St
Red Hill
Thursday mornings from 30 Nov 10am – 11am
at 56 Endeavour St Red Hill
Saturday mornings 10am – 11am $12
Axis Youth Centre, Cnr Campbell & Park St, Queanbeyan
Tuesday mornings 11am – 12pm $12
Weston Creek Community Centre, Whitney Place, Weston
What's On
Tuesdays 11am Simply Meditate at Weston Creek
Tuesdays 7pm Meditation & Buddhism at Turner  
Wednesdays 12.30pm Simply Meditate at Belconnen
Thursdays 10am Simply Meditate at Red Hill
Saturdays 10am Meditation & Buddhism at Griffith
Saturdays 10am Simply Meditate at Queanbeyan
Classes finish December 16 & resume January 16
Classes finish Dec 16
See you from Jan 16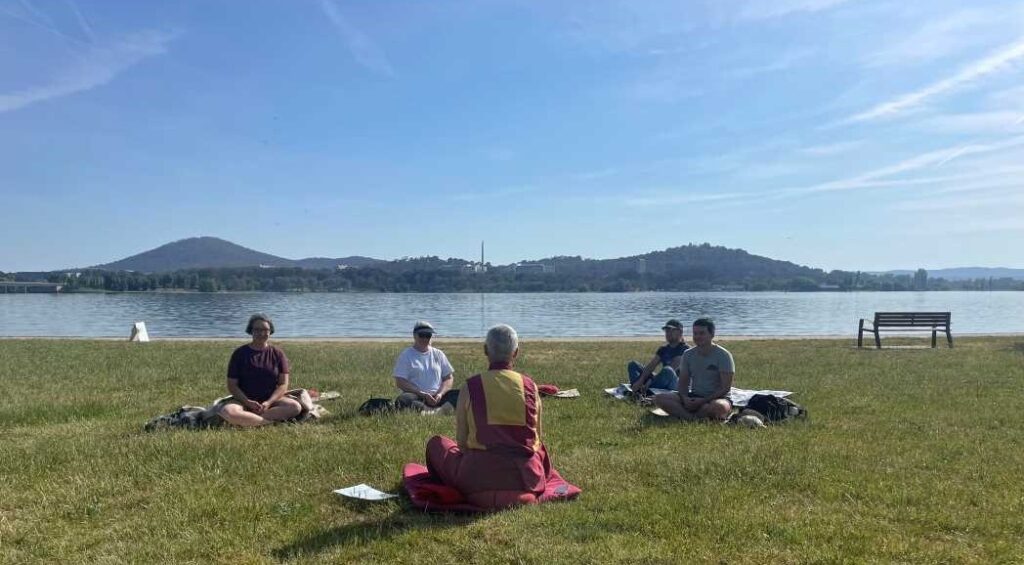 Meditate by the Lake
Sat 9 Dec at 8am – next to On-Lake Cafe
Join us once a month in Bowen Park at Barton from 8.00am til 8.30am. Free.
Guided Weekend Retreat
Sat 16 & Sun 17 December at our Centre in Red Hill
Be introduced to four states of mind that provide a systematic antidote for all mental negativity, and remove the inner causes of our problems and suffering.
$70 for the whole retreat or $30 for 2 sessions 
What people are saying...
What are
our classes
like?
Take a listen
Kadampa Festivals: in-person & online